Biography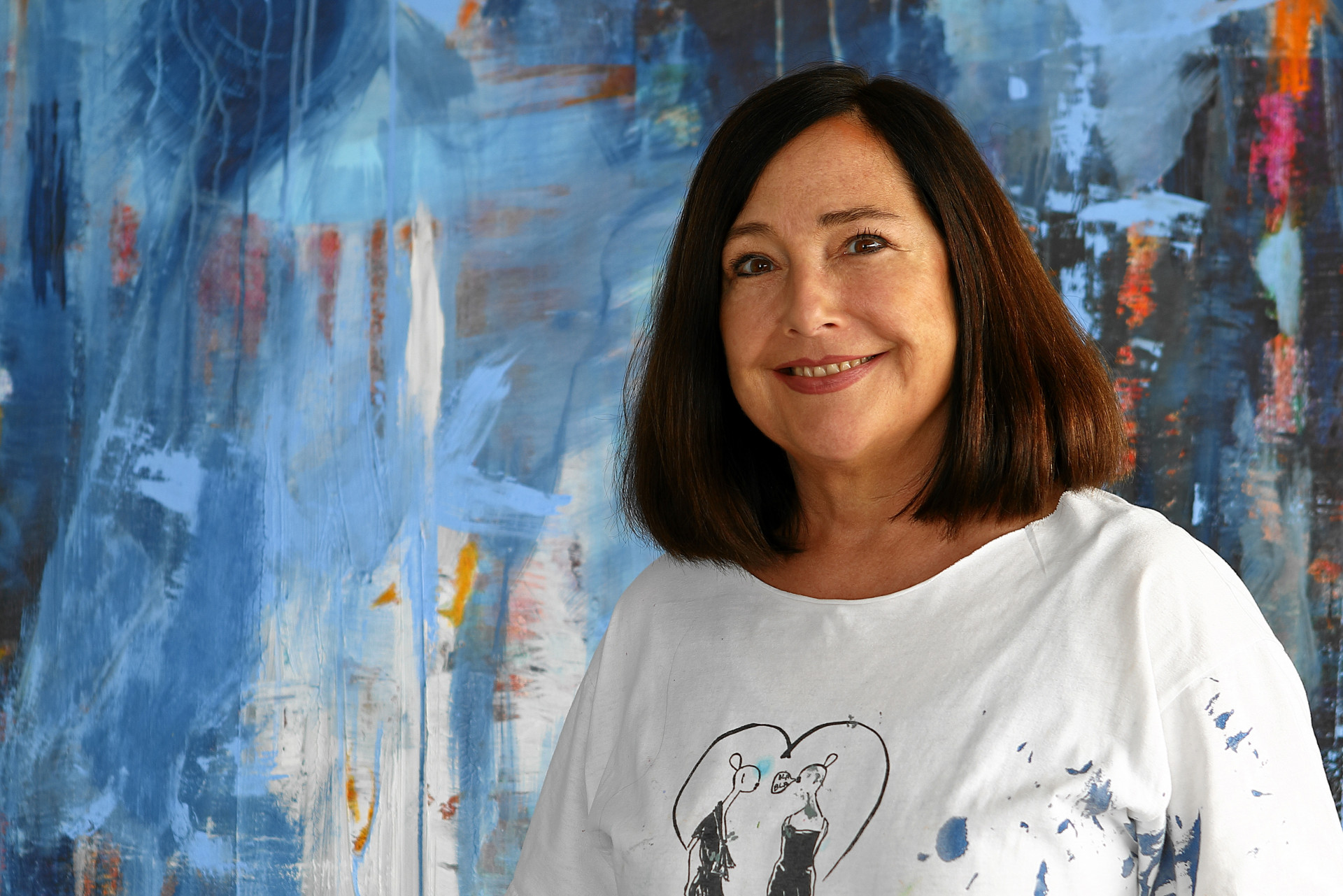 "Color is a power which directly influences the soul."
Wassily Kandinsky
Short Biography
 The love of art and the need to express myself through colours and compositions have always accompanied me. Photographs, nature drawings, nude and portrait painting developed while training as a textile and design engineer have helped me develop a handwriting that is as precise artistically as it is sound on an artisanal level. Like many artists of the 20th and 21st century, I have turned from figurative painting first to collage and then to abstraction.
I reduce to the essential: shapes and the substance of colours. My means of expression are surface structures and textures, strong contrasts, at times expressive colour choices and play with colour surfaces that partly conceal, partly reveal what lies beneath. In order for the complexity and optical depth of the paintings to become perceptible, parts of the canvas remain open. To apply layers, I use paintbrushes and palette knives, oil crayons, pencil and pigments.
Travelling is my source of inspiration: I am guided by memories of a place's colours, its nature, particular patterns of light and shadow. My artistic practice is a painted response to the disrespect of the environment and the fast pace of the increasingly digitalized world; an expression of my desire that we develop respect for the surrounding world and that we recognize the urgency of a sustainable protection of nature. The paintings' titles refer to those sources of inspiration, subject areas and concerns. More importantly, though, my colour worlds are meant to invite viewers to go on a sensuous journey of discovery and to inspire thoughts and ideas of their own.
 Sonja Kalb, 2021
Current & Upcoming
+++
Orange the World- end violence against women and girl
Bardula, Marian Bijlenga, Robbert de Goede, Bernd C. Dietrich, Stephi Friedrich, Ueli Gantner, Kurt Grimm, Sonja Kalb, Yoshiyuki Miura, Hannes Mussner, Sascha Nordmeyer, Simon Oud, Fabian Pfleger, Christoph Pöggeler, Merlin Reichart, Babak Saed, Alberto Saka, Reiner Seliger und Xianwei Zhu.
25. November 2023 – 10. Dezember 2023
Opening on Friday, 25 November 2023, 16:00
Galerie Kellermann
Heinrich-Heine-Allee 12
40212 Düsseldorf
DE
+++
Aqua Art Miami 2023
Dezember 6 - 10, 2023
VIP Preview:
Wednesday, December 6 | 3pm-10pm
Public Hours:
Thursday, December 7 | 12pm - 9pm
Friday, December 8 | 11am - 9pm
Saturday, December 9 | 11am - 9pm
Sunday, December 10 | 11am - 6pm
Aqua Art Miami
Arte Globale Gallery
Booth #104
USA
+++
Botanik. Das kleine Format
5 December 2023 – 16 January 2024
Opening on Tuesday, 5 December at 18:00
Finissage on Tuesday, 16 January 2023 at 18:00
Opening hours by appointment only: +49 211 35 64 71
Künstlerverein Malkasten
Jacobistraße 6a
40211 Düsseldorf
DE
+++
10 Jahre Galerie Kellermann
Bardula, Marian, Bijlenga, Victor Bonato, Bernd C. Dietrich, Stephi Friedrich, Rupprecht Geiger, Robbert de Goede, Kurt Grimm, Marcus Jansen, Sonja Kalb, Adolf Luther, Stephan Marienfeld,
Goncalo ´Mabunda, Yoshiyuki Miura, Marcello Morandini, Hannes Mussner, Sacha Nordmeyer, Simon Oud, Fabian Pflleger, Otto Piena, Christoph Pöggeler, Merlin Reichart, Erich Reusch, Babak Saed, Alberto Saka, Bernd Schwarzer, Gérard Stricher, Günther Uecker sowie Zalez
29 September 2023 – 18 November 2023
Galerie Kellermann
Heinrich-Heine-Allee 12
40212 Düsseldorf
DE
Galerie Kellermann (Oberkassel)
Cheruskerstr. 105
40545 Düsseldorf
DE
+++
Affordable Art Fair - New York City
20 - 24 September 2023
Metropolitan Pavilion
125 West 18th Street,
New York, NY 10011
USA
+++
Organizing Chaos
30 September - 7 October 2023
Opening on 30. September 2023, 5:30 p.m
Fondazione Matalon
Foro Buonaparte 67,
20121 Mailand
IT
+++
Kunstpunkt 196 Open Studio
26. August 2023 - Saturday 14-20:00
27. August 2023 - Sunday 12-18:00
Kunstpunkt 196_Sonja Kalb
Wielandstr. 54
40211 Düsseldorf
DE
+++
Sicily Summer Art Expo
22 July - 29 July 2023
Opening on Saturday, 22 July 2023, 19:00
Ragusa Museum
Ragusa Cathedral Museum
Corso Italia 87
97100 Ragusa
IT
+++
Inner Bloom
25 July 2023 - 08 August 2023
Opening on Tuesday, 25 July 2023, 18:00
Monat Gallery
Calle de Estudios 7
28012 Madrid
SP
+++
OpenArtCode Gaeta
21 May – 25 June 2023
Opening on 21 May 2023
Pinacoteca Comunale "Antonio Sapone" di Gaeta
Contemporary Art Museum
Via de Lieto, 2,
04024 Gaeta LT
IT
+++
Shape of Vision
01 July – 25 July 2023
Opening on 01 July 2023
Galleria Spazio57
Via Chiatamone, 57
80121 Naples
IT